One of the things that I've noticed is that there are significantly fewer well-known authors, in the Christian world, who are women. I don't know why exactly this is because often times women are the ones who teach us to walk, to eat and to speak. So why stop learning from them when we grow up? Personally speaking, I have been taught so much by women over the years that I can't even begin to recount everything to you here, nor is that the point.
The point of this post is to bring two wonderful books to your attention. These two books are very different, they tell the stories of different people, from different backgrounds,  different cultures and different skin colours. But one of the things that brings these books together is the fact that they both point you to God through Scripture and through personal testimony.
Here are two books that I would encourage you to look into purchasing.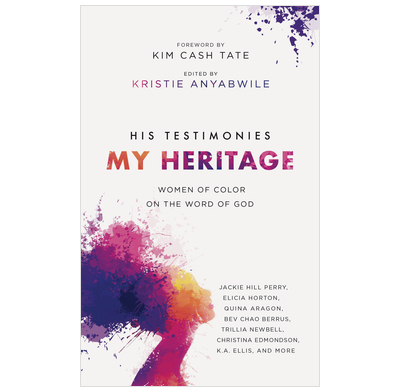 His Testimonies My Heritage by Kristie Anyabwile
This book is an example of women who have a deep love for the Lord and His Word who also see that played out in their lives daily. His Testimonies My Heritage is a devotional book that walks through each stanza of Psalm 119 and each section is written by a different woman of colour. Why is a book about the Bible sprinkled with people's testimonies a good book to read?
"We have to lean together on the truth of God. Whatever difficulties we face as Christians – whatever our background, family, skin colour, or gender, and whatever our hopes and dreams and fear and challenges – God imbues his children with power by his Spirit, through his word, to walk alongside each other with words of wisdom and hope and love."
 This book is a faithful exposition of a glorious Psalm written by women from all different walks of life and it shows that God's Word knows no boundaries. God's Word is not restricted to one people or one nation, but it is open for all to read and understand so that they can praise Him!
His Testimonies My Heritage was written as a celebration of Psalm 119 and a celebration of  hearing God's Word through the voices of women of colour. Here is what Kristie says the book will do…
"His Testimonies, My Heritage will enable you to hear from women as they faithfully expound God's word, and to see their unique experiences sprinkled throughout the devotions as they give glimpses into their lives and cultures."
This book will help you see how God's Word changes lives and how it is the anchor that keeps you firm in the storm. As you read the devotions you will be encouraged to hear what God has done, challenged to cherish God's Word more, you will learn about Psalm 119, you'll read of the cultures and experiences of 27 different women. This book is worth every penny! You'll be able to buy a copy here from the 1st of September. Get the date in the diary!
Rating 5/5
Kristie Anyabwile lives in Washington, DC, with her husband Thabiti. They have three children. Kristie is a popular conference speaker and tweets @kanyabwile
Not Forsaken by Jennifer Michelle Greenberg
This book tells Jennifer story of how she grew up with an abusive father. It tells the story of how she was playing with toys and her father was reading a theology book, but then she was beaten. As I read this book I was shocked that anyone could do such horrible things to their daughter. I was shocked that people didn't listen, didn't want to listen or didn't understand what was going on. But most of all, as I put the book down I was absolutely amazing and rejoicing that Jennifer has gone through all of this and come through the other end a Christian and a voice for other victims of abuse.
Sadly we live in a world where Jennifer is not alone and thousands upon thousands of people live in similar situations, but this book is a tremendous resource for everyone to read! I don't often say that you need to get a book, but this is one of those books! It is Jennifer's testimony but it is also a book that tells you how to spot abuse, how to care for the victim and how to navigate a very difficult topic.
This book shines light on the lack of knowledge out there, it speaks of pastors saying that Jennifer was exaggerating or that she was to blame for her father's sin. I was appalled to read of how some people treated Jennifer as she tried to reach out for help and I am so thankful that she wrote this book to give us no excuse for that to happen again!
This book was written initially as a letter to her husband and I am so thankful that Jennifer was willing to be so vulnerable in such a public way so that we can all learn about this heart wrenching topic of abuse. This resource will make you weep, make you wake up and it will fill your mind with the wonderful truth that, despite what you're going through, you are not forsaken!
I would encourage everyone to buy this book and read it! Sadly, The Good Book Company aren't stocking it in the UK but you can order it here from the States. Jennifer's reflections on her life, on Scripture and on the gospel will make you cry, make you rejoice and make you praise God.
As a person in Church Leadership I am called to care for some of God's sheep and undoubtedly that includes some who have suffered abuse in its many ugly forms. But we are all called to care for one another, this book is a great resource to help with that!
Rating 5/5
Jennifer Michelle Greenberg lives in Texas with her husband, Jason, and their three young daughters. A writer and recording artist, Jenn tweets @JennMGreenberg and blogs at jennifergreenberg.net.