Children are a wonderful gift from God and they are at that stage in life where they are sponges for information. Everyday they are learning new words, seeing new things and hearing new information. Some of that information will be over their heads but it will make sense to them in the years that follow. Therefore, the job of those who look after and care for children is of vital importance, we need to teach them solid truths that will last them for years. Parents, grandparents, aunties and uncles, friends of families and Sunday school teachers please teach children the solid truths of Scripture.
Here are 3 great resources to help you with that…

Follow Jesus with Peter by Matthew Sleeman
I've spent a lot of time in the book of 1 Peter over the last year as I've preached it and have had the privilege of working through it with other preachers. It is a phenomenal book that is very relevant for today. Matthew Sleeman has written this great book Follow Jesus with Peter.
In this book Sleeman walks through every single verse of 1 Peter, he explains what the verses mean, he defines certain words and concepts for the children and he adds a prayer for every one of the 25 readings. This is quite a unique children's book, the author is a lecturer of New Testament and Greek at Oak Hill College and each passage in the book is his own translation from the original Greek text.
I really liked how this book didn't shy away from the difficult parts of Peter's first letter, but Sleeman approaches the whole book in such a simple and helpful way that every child can learn from it. We need to get the Bible into our children's hands, nice stories will not carry them through life only an encounter with the Living God through His Word will point them to the glorious wonders of the gospel. I highly recommend you buy this book, you can grab a copy here.
P.S. – It's also really helpful if you have question about 1 Peter 😉
Rating 5/5
Matthew Sleeman teaches at Oak Hill College, London. He helps train people who want to teach others about Jesus and how to follow him. Matthew has been a Christian since childhood, when his mother used to read the Bible with him. He hopes both children and adults will enjoy reading and hearing this book.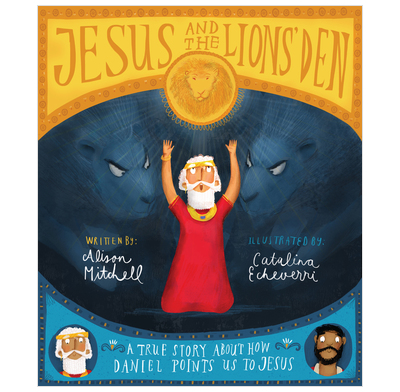 Jesus and the Lions' Den by Alison Mitchell
No, don't worry, it is not a typo!
How many children's books have you read that take the child from an Old Testament story and help them see Jesus through it? I haven't seen a huge amount that have done it well. But this one certainly does!
Alison Mitchell has taken one of many children's favourite Bible story and retold it in an engaging and exciting way.
This book starts of by speaking of Daniel's habit of prayer, how great would it be if our children understood the importance of getting into such a wonderful habit?
She then walks through the story in a way that is faithful to the Biblical narrative and exciting for the children. This story is part of a series that helps children look for those 'Jesus moments' in the Old Testament.
The second half of the book compares Daniel's experience of the lions' den with Jesus' life, death and resurrection. This is a great book which takes your child even deeper into the story of the lions' den and points them to Christ. Imagine if our children were taught from the get go to look for Jesus in every page of Scripture? They would have truths that can sustain them through the years as they see what a mighty and wonderful saviour we serve! I highly recommend you grab this book, you can read it to younger children and older children can read it themselves, I pray that it would be used well and that many good conversations will come from it. Grab a copy here!
Rating 5/5
Alison Mitchell is a Senior Editor at The Good Book Company, where she has written a range of Bible-reading notes for children and families, and is editor for the Christianity Explored range of resources. Alison is also involved with youth training events around the UK, including the Growing Young Disciples training days and Bible-Centred Youthwork Conference.

The Mind Muddler by Johanna Boddam-Whetham
There are many difficult things in the Bible and the Christian faith that are difficult enough to explain to adults never mind children. One of the difficult topics to describe to children in a helpful and understandable way is sin. This book is a very helpful tool to do that. Here is Johanna's opening words to parents…

"We long for meaningful gospel conversations with our children, but more often than not the opportunities for having them pop up in the full flow and chaos of family life. The more tools we have to help us to use these opportunities the better. My prayer is that The Mind Muddler will simple add another arrow to our quiver as we aim for more of those priceless conversations over the years."
This book explains sin as something that has muddled up our minds, it explains how in the beginning our thinking was straight; God is the King. But then comes Genesis 3, we become confused and began to be muddled people now think that we are the kings. Johanna then goes on to explain that despite our mess and muddled minds, God is still King and He is gracious. This book explains the truth about how all encompassing sin is and at the same times explains so beautifully the gospel so that children can see the truth.
At the end of the book there is also a section that is designed for older children so that you can explore some of the themes that this book raises in a bit more depth. This book will be a helpful tool to convey the seriousness and pervasiveness of sin to children in an understandable way and it will spark some great conversations! Grab a copy here!
Rating 5/5
These books are really helpful and I encourage you to get them and read them to your children. They are all illustrated so well! The authors and illustrators have poured so much into these 3 books and I for one am so thankful for people who set aside the time to convey life-changing truths to the little ones we love!