I was in a shop yesterday and got into an interesting conversation with the shop keeper. The gentleman was a Sikh and we got chatting about the materialistic nature of Christmas today among other things. My wife said something along these lines "as Christians we believe that the real meaning of Christmas is Jesus Christ, the son of God, who came into the world to bring life and forgiveness. That is the real gift and meaning of Christmas." The man agreed. Yes, maybe he was just being polite, but it got me thinking 'people really don't know who Jesus is, what he claimed or what he did'.
I recently read two books that are about this very topic, they both address who Jesus was and the significance of his life. How amazing would it be if this year in the run up to Christmas Christians had a renewed desire to see more people hear about and come to know Jesus?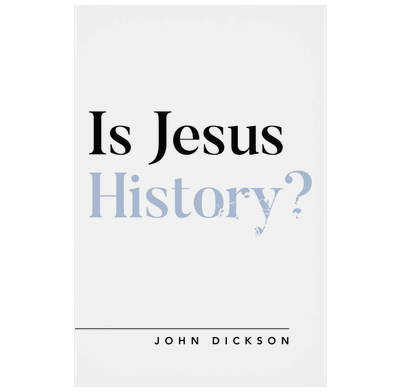 Is Jesus History? by John Dickson
This question is a very important one for the entire world to ask. The person, identity and work of Jesus is a must for every person to wrestle with. There seems to be a growing misunderstanding of history and the facts that surround the life of Jesus. As Dickson says…
"For a few years now some of the best-selling books have been full-scale attacks on Christian claims by the world's most brilliant atheists: Richard Dawkins, Christopher Hitchens, Michel Onfray, Lawrence Krauss, and so on."
People love to read these books and sadly they can leave the impression that the Gospels are questionable or that even the person of Jesus, as a historical figure, is doubtful. However…
"Anyone who dips into the academic literature about the figure of Jesus will quickly discover that trained scholars, regardless of their religious or irreligious conviction, reckon we know quite a bit about the influential teacher from Nazareth."
In this book you will read about how history works and how we know what we know, you'll discover facts and evidence about Jesus that will give you immense confidence. But more than that, this book helps you see that actually the academic quest to find the historical Jesus isn't leading people to being more skeptical but less.
This book is logical, Dickson brings good and well thought through arguments from his experience as a historian, but it is also accessible for the average Joe (like myself). This would be a great book to giveaway to a friend this Christmas who is thinking about Jesus, a good resource to have on your shelf and a helpful book to work through with others who want to have more confidence in the Gospels and in Jesus.
Buy the book here, think and pray about who you might give it to and share Jesus with a friend or family member. Also have a look at the whole series from the Oxford Centre for Christian Apologetics. Here are my reviews of Am I just my brain? and Can science explain everything? 
Rating 5/5
John Dickson is a pastor, speaker, author, presenter, musician and public advocate for Christianity. He teaches Historical Jesus at Sydney University, and is a Distinguished Fellow at Ridley College, Melbourne.

Veiled in Flesh by Melvin Tinker 
One of the things that has always blowing my mind and I still can't fully grasp is the incarnation. The fact that God the Son would humble himself and take on flesh to enter into this broken world. It's amazing! Therefore, you can imagine that I loved this book but I guess you figured that out by just reading the title.
This book doesn't simply give facts and Bible verses about the incarnation and it isn't a lecture on the importance of the doctrine, but this book lifts your eyes to see the majesty of Jesus. In these pages you'll find a wonderful study of Biblical theology which is true and faithful to the teaching of Scripture and you'll find great explanations of the life, works and teaching of Jesus.
The book is split in 2 parts; the first exploring the Biblical foundation for the incarnation, and the second exploring the theological significance of the incarnation.  Throughout this book you'll find that Tinker writes from a position of worship as the author himself is almost taken aback by the wonder of the incarnation. In the preface, explaining the first part of the book, Tinker himself says…
"The approach adopted will involve plain, straightforward exposition of the text, designed not to satisfy speculation but to fuel devotion. To be sure, this will entail a careful unpacking of some key doctrines regarding the person and work of Christ, but in a way which arises out of the biblical text with a careful eye on pastoral application."
Why is this such an important topic or an important book that Christians should consider reading? Because we need to be certain how we communicate Jesus to the world…
"If Jesus is not God who became man, then Christians are guilty of idolatry by worshipping a man… But if he is God, this is a game changer, for then we can say with a fair degree of certainty that we know what God is like, what he wants from us and how we can be related to him."
This book will take you through the significance of the incarnation, some of the heresies that have surrounded this topic int he past and give you confidence to stand firm in your confession that Jesus Christ took on flesh at Christmas. This books, whilst it does look at very deep theology, is not difficult to read. Tinker writes in a helpfully simple way which makes it easy to read and very enjoyable. I finished it in a day on holiday and I kept on mentioning quotes to my wife. That means that it's a good book 🙂
You can buy the book here from IVP and start exploring the incarnation before Christmas and before you sing the carol that this book sorrows its title from 'Hark the herald angels sing' "Veiled in flesh, the Godhead see; Hail, th'incarnate Deity:"
Rating 5/5
Melvin Tinker – Vicar of St John Newland since 1994, Melvin read Theology at Oxford University and trained for ordination at Wycliffe Hall. He has previously been curate at Wetherby Parish Church, Chaplain to Keele University and vicar of All Hallows, Cheadle.
As well as speaking around the country and abroad, Melvin is the author of over sixty published articles dealing with a  wide range of  subjects relating to ethics and theology. He is also the author of several books, including, 'Why do bad things happen to good people?' (CFP), 'Reclaiming Genesis' (Monarch) and 'Intended for Good- The Providence of God' (IVP) and 'What Do You Expect? Ecclesiastes for Today' (Evangelical Press).