As 2020 is coming just over the horizon maybe, like many Christians in the world, you're thinking "What will I study in the Bible this year?" We spend so much time thinking about what we, as adults, do and study in our quiet times, but do we afford our children and young people the same courtesy?
The minds of the younger generation are like sponges, why not get them to soak up wonderful truth that will carry them through the ups and downs of life? Why not set godly rhythms in their lives, now whilst they're young, that will be of huge benefit to them in the future? To that end, I'd like to recommend a few books that would be great for you to use to encourage your children and young people to study and read to grow in their understanding of the Bible and love for Jesus. If you're looking for devotional materials for adults,I wrote this last Christmas time and this just recently. There's some great stuff out there for adults, but let me point out some stuff for teens and children…
Teens…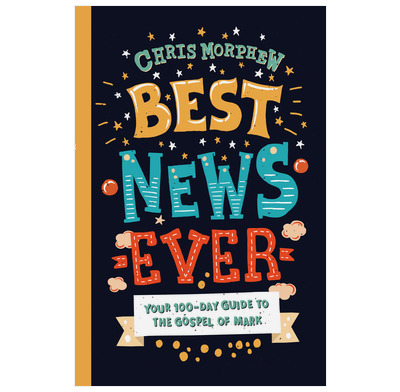 Best News Ever by Chris Morphew
Over the last few years in most of my one-to-ones I have read Mark's Gospel, I've enjoyed getting to know the text well and walking through it slowly. This devotional does just that! It takes you through the Gospel of Mark in 100 daily devotionals that are jam packed of great insights.
It's written for teenagers and can be used by them individually or as a whole family to help them think through the best news ever; the gospel. This would be a great book to get a teenager into the spiritually beneficial routine of quiet times. Each study has a short explanation, application questions based on the passage and then a prayer. I highly recommend you give it a try, grab a copy here and start the year off in Mark's gospel.
Rating 5/5
Chris Morphew is an author, teacher, and school chaplain living in Sydney, Australia. He has written over 20 novels for children and youth, including his six-book young adult series, The Phoenix Files.

Head, Heart, Hands (3 part series) by Linda Allcock
Bible reading isn't just about filling our hearts with knowledge. Sure, we do need to know things, but if it doesn't go any further than just head knowledge something isn't right.
Linda Allcock has written three great study booklets that walk teenagers through the Gospel of Matthew. These notes are written for teenager girls to help them see how the Bible and the gospel can speak into and help them through some of the difficulties they face.
In a world which bombards young women with photoshopped images and unreachable ideals of what they should look like and who they should be, this book unpacks the true identity of a young women of God. These booklets are interactive and they can be read individually or in a smaller group. They don't spoon feed you truth, instead they help you learn how to read and apply the Bible for yourself. If you have or know teenage girls, I highly recommend that you get them this to help them grow in their devotional life, buy the set here.
Rating 5/5
Linda Allcock is married to Jonty, and serves alongside him at The Globe Church, London.
Children…

Psalms for my Day by Carine Mackenzie & Alec Motyer
Children have inquisitive minds and often ask questions that many adults don't think about. Imagine if you had a book that would help you explain to your child just how wonderful and amazing our God is? Look no further!
In this you have 31 Psalms that you can read with your child that will will their eyes to see the majesty, glory and power of God. I love this book because it gets kids stuck into God's Word, it explains the passages in a helpful, Biblical and simple way. Imagine if you could get your child to see the benefit of contemplating and talking about a characteristic or attribute of God each day? They'd be wonderful worshippers of a Great God. Buy the book here and give your children a grand view of God.
Rating 5/5
Carine MacKenzie's talent for retelling Bible stories has meant that children from all over the world have been given the opportunity to discover Jesus Christ for themselves. She has sales of several million books and lives in Inverness, Scotland.
Dr Alec Motyer (1924–2016) was a well–known Bible expositor and from an early age had a love for studying God's Word. He was principal of Trinity College, Bristol and wrote many widely appreciated commentaries and other books.

30 Prophecies: One Story by Paul Reynolds
The Bible is a masterpiece, it tells the history of God's redemptive plan that starts way back in Genesis and it is all about Jesus. There are so many Old Testament passages that point forward to Christ and this book draws them out for us.
In this book Reynolds has made us a fly on the wall of Jesus' conversation with the disciples on the road to Emmaus. Starting from as far back as Moses and the Prophets, Jesus began to teach the disciples about the prophecies that were fulfilled in him.
But this book doesn't just give you references and a few nice pictures, it really unpacks the prophecies for the children and applies it for today. Each chapter has the information about the prophecy (who? when? what?), it explains what it meant to the original readers, how Jesus fulfils it, how it fits in with God's grand salvation plan and how to apply the truth in your life today. This is such an informative book, I would love every adult to read it! I cannot recommend this book enough, buy it here I promise that you will not be disappointed!
Rating 5/5
Paul Reynolds is a member of First Baptist Church of Grand Cayman. He and his wife Rachael have two children, Jude and Alice. Paul enjoys photography, and writing about, watching and coaching baseball.