One of the joys of reading the amount of material that I do is that I get to devour tons and tons of knowledge. One of the downsides is that I can't always write full reviews on every book. If I reviewed every book I read, I'd need to make this my full-time job! But at the beginning of the year I posted a blog with a list of books I read whilst on holiday. It was a slightly different kind of post, more of a list with short recommendations rather than full reviews. However, many people got in touch and said how they found it to be quite helpful. Therefore, I thought I'd give you another similar post highlighting some of the books that I've read recently (in no particular order).
Gender Ideology by Sharon James
What is gender? What exactly defines gender? Is gender really fluid? Can we decide what gender we are? These are all questions that many people today are wresting with, both inside and outside the church. The topic of gender can be a very difficult one because as Bible-believing Christians we hold to a very countercultural view. Therefore, Christians can shy away from this topic or keep quiet about it. But this book is a great introduction to the topic, it has so much information packed into just a few pages and is really accessible.
The Fight of your Life by John Stevens
Every single Christian in the world faces temptation, to deny that would be a lie. But do you ever sit and ask yourself why? Do you ever think about the nature of temptation, the reality of sin and how to resist temptation? John Stevens has written this helpful wee book which is the result of a variety of different speaking engagements about or related to the topic of temptation. This book is Biblical, theologically on point and pastoral. I can imagine it being a great help to many believers. This can be a great tool to help you equip yourself and others to fight and resist temptation.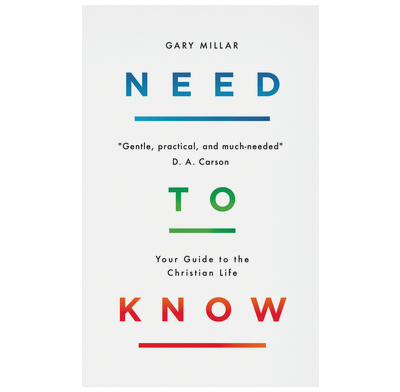 Need to Know by Gary Millar
What does/should the Christian life look like? Many people come to faith and have tons of questions, questions about doctrine, lifestyle, how to apply the Bible and how to honour God with their lives. This book is the place to take them.
Carson describes this book as the 'how-to' of the Christian life and I completely agree. It's a great book for those who have no Christian background to understand Christianity a bit more, and a good refresher for the seasoned saint.
Revolutionary God by Joel Morris
The gospel of Jesus is not a nice story or a comfort blanket to help Christians through life. The gospel is a message that changes things, it's a message that brings revolution. This book is a challenge to ever comfortable Christian. It should spur on those who are feeling the kick back for their work for Christ, and should stir those up who are comfortable in their faith. This book is all about Jesus and the revolution that he started which continues to this day. You'll find stories of people who, because of their faith in Christ, did tremendous things for the gospel and for the world all because of their understanding of what Jesus did.
Free to be me by Tim Hawkins
Freedom is a funny word. It's funny because to different people it means different things. Some say it's the lack of rules, some say it's the lack of responsibility. This book, written with teenagers in mind, is all about freedom and where true freedom can be found. This book takes teens to the Bible to see their worth and identity as image bearers of God. It tells the reality of the fall and how each of us lives with the effects of original sin and it points the reader to the true hope and true freedom that can only be found in Christ. This would be a great book to buy for any teenager that you know, it will both encourage and challenge them in their walk with Christ.
Hallelujah by Stan Evers
There are so many wonderful passages of Scripture that we use in our churches as benedictions today. The Old Testament has absolutely wonderful passage of praise and worship to God for His attributes, His character, His faithfulness and much more. But do we ever stop and actually study these passages, or do we just rhythm them off as encouragement to Christians or as benedictions at the end of a church service?
This book is a helpful wee tool to study some of the Old Testament benedictions. It unpacks the depths of them and points us to our Great God and our wonderful Saviour.
Revival (set) by Brian Edwards
Praying for Revival & Revival; A People Saturated with God

Revival, it's a topic that Christians talk about all the time or don't talk about at all. It's a topic that many people want to know more about but don't know where to start. In this two part series you get an introduction to what Edwards calls examples of revival in both the Old and New Testaments. You'll also find stories of past revivals in the UK, Romania, the Netherlands and in Congo. I didn't agree with everything in these books, but I did find them to be very interesting reads and I enjoyed them. If you're interested in revival, these would be a good starting point.
Character by Sharon Dickens
How should the gospel change our lives? That's the question many people ask, and should never stop asking it because we should always be changing more into the likeness of Christ. This book is a helpful, insightful, wise and banter-full book on that very topic.
This is not one of those cheesy Christian self-help books, but it is an honest book that gives you insights into the lives of others and is written in a way that is engaging and challenging. I love the format of this wee series and would recommend that you buy the lot!
Training by Isaac Adams
Everyone understands that if a person wants to grow muscle or loose weight, or just get fitter, they are in need of training. Training requires dedications, know-how, meal plans, gym time and so on. But when it comes to spiritual growth, sometimes any idea of training goes out of the window. This book is a helpful guide to training in godliness. In it you'll find practical ways for every Christian, both the young and old, to grow in their love for and devotion to the Lord. But the wonderful news is that we are not alone and this book helpfully draws out the reality of the Lord's help as we seek to grow in Him and in holiness.
So, those are just some of the books that I've had the pleasure of reading recently. What have you been reading recently? I'd love to hear from you guys too! Swing by the contact page and drop me a wee message with what you've been reading recently.