One of the privileges of being a blogger/book reviewer is that I get sent tons of really good resources as soon as, or before, they hit the local bookshop shelf. This also means that I read a huge variety of resources which I hope will be helpful to you, my dear readers.
This time of isolation means, for some at least, that people have more time on their hands. How often in a prayer meeting have you said "pray for more time to read my Bible and to learn more about God"? Well, now maybe you have that extra time, use it wisely! Here are a number of resources that can help; Bible studies, devotionals and commentaries.
Bible Studies
1 Peter; Confidence in a Complex World by Joe Warton
I love the book of 1 Peter, I've studied it for about 2 years now and have preached from it a number of times. It's a very relevant, counter-cultural book that calls Christians to be distinct disciples. This short 6 session Bible study booklet will help anyone who wants to dig deeper into 1 Peter. In this little book you'll find thought provoking questions that wrestle with the text and application, helpful articles and commentary on the text, pointers for how to pray based on the passage and all of that wrapped up with a great design and layout!
Seven Letters to Seven Churches & Ezekiel; Visions of God's Glory
by Douglas Connelly
In both of these studies Douglas Connelly writes a short introduction with relevant stories pertaining to the big idea, or main message, of the text. Each study contains a number of questions designed to help you understand the Bible passages. These studies are good, they are not as deep as other study material, but they do have some good application questions.
Devotionals
Revelation by Paul Mallard

In this short booklet of 30 devotionals Mallard unpacks the first 3 chapters of the book of Revelation. In these pages you'll find two and a half pages for each day. Each devotional opens up the text, draws you in to see the importance of it and its application and most importantly it points you to Jesus. This would be a great companion for your Bible reading plan.
Habakkuk by Jonathan Lamb
Just the mention of the minor prophets and, sadly, you could empty a room full of Christians. But to miss them out would be a huge mistake, as this short 30 day devotional will show you. When faced with troubles people ask the questions 'why?' Jonathan Lamb will help you, in this wee book, to see how Habakkuk dealt with that same question. This is a great devotional that will help you, encourage you and turn you to praise God.
Ezra; The Lord Helps by Paul Williams
The undated Bible reading series, by 10ofThose, is really helpful for personal study and at the moment you can get 5 for £10! In this book of 41 devotionals you'll find stories, explanations and thought provoking reflection questions, all designed to help you wrestle with the message of Ezra. This series is best for individuals to use, it has straightforward and a helpful explanations that will guide you through a book of the Bible.
Commentaries
Psalms For You by Christopher Ash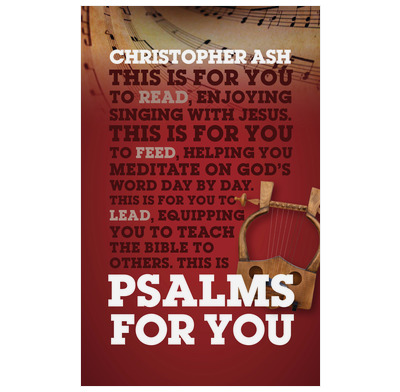 This is a great commentary! Many churches seem to neglect the Psalms, only preaching them as fill-in sermons or as a call to worship, but the Psalms is a treasure chest of praise, real life struggles, questions and a declaration of confidence in our God who is Good, Faithful and Loving. Ash has years of preaching experience and it all comes out in this book. In 264 pages (not including the glossary and appendix) Ash opens up a number of the Psalms and takes you through them verse by verse. Obviously he could not do all 150 of the Psalms because the book would be significantly bigger than it is. This book would serve every Christian well, it is not a complicated or technical commentary, it manages the balance between information, explanation and application very well. So if you want to dive into the Psalms more, or if you're leading a small group study on the Psalms or if you want to preach from the Psalms in the future, this book will be a huge help to you.
In the Presence of my Enemies; Psalms 25-37 by Dale Ralph Davis
If you've looked into commentaries or spoken to preachers about the commentaries that they use, then the name Dale Ralph David will not be new to you. Davis has written a number of great commentaries that have been a help to many a preacher all over the world, here's a new addition to the list. Enemies, conflict, pain, struggle and mourning are all things and situations that we have come across and if we haven't, then we will. The Psalms touch on this reality of life and God's Word helps us see how to endure and how to find our strength and confidence in Him during those times. This book is a great study of Psalms 25-37! There are countless quotes that I could put in this post to show how this book is full of great insights, rigorous study, a pastoral heart and how this book glorifies the Saviour. I would highly recommend every Christian buys this book and the previous one by Ash!
Opening Up Jude by Robert Dale
Everyone knows the last 2 verses of the book of Jude, they are repeated in countless church services as a benediction around the world. But how many people would actually know anything else about the short book, or about it's message? I have a feeling that very few people would say that they fall into that category. In this short book (108 pages) Robert Dale opens up what can be a very difficult book to understand. Jude is a very challenging and relevant book for Christians to be reading today as it deals with false teaching and ungodliness; two topics that are sadly just as relevant today as they were when the book was written. Robert Dale's book is short and informative and would be a helpful companion for any Christian and preacher who wants to think more about Jude and its message.