I don't often review commentaries, I read them all the time, but they're not always the most thrilling of reads that would interest the 'average Christian'. However, one of the series that you'll see me review every now and then is the 'For You' series, a set of books that help you understand books of the Bible. They're books that you can read through like any other, or books that you can use in your own devotional life or books that you can use to help you prepare to lead Bible studies or write sermons. Here are two new additions to the series…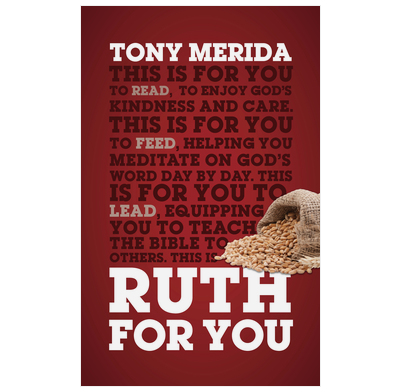 Ruth is one of the Bible books that seemed to do the rounds a few years ago. In almost every conference there was some teaching on Ruth, much like Ecclesiastes seemed to be doing the rounds last year. Ruth is a very small book that can sometimes be overlooked, but it has a wonderful message.
Merida has written this great little book which will help you get into the depths of Ruth. You'll be introduce to the context of Ruth, a good look at the culture in which she lived and a helpful overview of how Ruth fits in with the greater redemptive storyline of the Bible. Merida does a good job at drawing out applications from Ruth that are true to the text and that point forward to Christ. Too often Old Testament, devotional commentaries can jump to applications that are not in the text, or helpful. Merida does a good job of not doing that. He lets the text set the agenda. This book is a guide, an aid, to help you see the wonderful story of Ruth and the bigger picture too.
Think of Merida as a tour guide who takes you on a journey to a troubling time in Israel's history and he points out significant moments and people who are significant. This book is designed to help you grow in your knowledge of God's Word and your love for Jesus. It will be a great tool for you to use if you want to dive into the book of Ruth in your devotional life. Head over to The Good Book Company and grab a copy.
Tony Merida is Pastor for Preaching and Vision of Imago Dei Church, Raleigh, NC; Content Director for Acts 29; and a Council member of The Gospel Coalition. He is the author of a number of books, including Ruth For You, The Christ-Centered Expositor, and Ordinary. He and his wife, Kimberly, have five adopted children.
---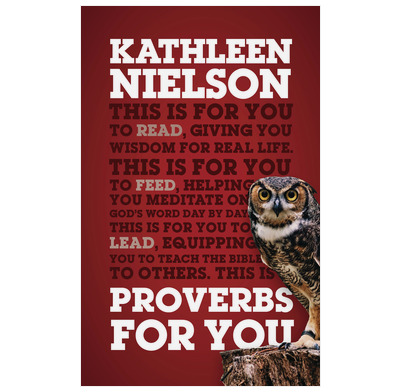 The world needs wisdom. Some people try to find it in celebrity talk show hosts. Some try to find it in a constant life of studying. Some try to find it in the voice of those who are older and more experienced. But real wisdom, true and lasting wisdom, is given to us in God's Word, the Bible.
Kathleen Nielson has written this really helpful devotional commentary on the book of Proverbs. Nielson helps us see that the wisdom of Proverbs is not found in pithy little sayings that are easy to remember, but that those saying only make sense when we see the bigger context of the whole book.
Instead of taking a thematic approach, Nielson tackles Proverbs as a whole book and draws our attention to the wisdom genre of Scripture as a whole. This is the best devotional commentary that I have read on Proverbs and I would highly recommend it to you. Our temptation might be to simply turn to the short saying and rip them out of context, but Nielson helps you see the poetic beauty and life experience that Proverbs brings to our lives. This is a great book that you should get a copy of if you want to think more about Proverbs.
Kathleen Nielson is a renowned conference speaker internationally, and served as Director of Women's Initiatives at The Gospel Coalition. Kathleen is the author of numerous Bible studies and books. She is married to Niel and they have three sons, three daughters-in-law, and seven granddaughters.