The Bible contains 66 books and each book of the Bible has hundreds and probably thousands of books written about it. Those books vary and can be called commentaries, study guides, devotional books or exegetical works. I have the privilege of spending my day reading and studying the Bible. I read the Bible with people one to one, I study the Bible in seminary, I study the Bible to preach it but most importantly I read and study the Bible for my own personal devotional life.
It has been a while since I wrote about books that help us wrestle with a particular book in the Bible so I thought it would be time to let you all see what I've been reading recently.
I'd like to draw six books to your attention. Don't panic, I will be brief and help you see which book is written for which audience. These six books are helpful resources for three different areas; personal study, small group study, and sermon preparation.
Personal study 
Here are two short books that will help you dive into three Old Testament books of the Bible. They will help you think about the big picture of the books and how to faithfully apply them today.

Malachi for the masses by Rich Castro
Malachi is the last book in the Old Testament, it's part of that dusty bit in many of our Bibles… the minor prophets. These books can seem scary to some people as they contain a lot of judgement and foretelling of judgement but they also contain wonderful truths and promises about God and His covenant.
This short book will walk you through the book of Malachi and help you understand some of the key features of the book. I found it to be a really helpful introduction to Malachi and I have really enjoying wrestling with the text. It is a simple and easy read and will definitely help you think through the context, meaning and application of the book.
Rating 3/5

Opening up Jeremiah & Lamentations by Andrew Thomson
Jeremiah is a book that some people love and some people avoid. People can see it as a depressing book with its only message being doom and gloom, but that's not true.
Jeremiah is raw in how it explains the consequences of leaving the Lord whilst showing the wonderful promises for those who believe and enter into covenant with Him. This book helpfully outlines the main themes of the book, it explains the context really well and it applies the book to today in a faithful way. Each chapter also ends with a 'further study' section and discussion questions.
The last chapter of the book focuses on Lamentations. In 8 pages Thomson helps the reader have a birds eye view  of the book and hones in on specific parts to help you understand the book.
Rating 3/5
Small Group Study 
These next two books are both written by R. Albert Mohler Jr. and are both part of the 'For You' series by The Good Book Company. They are really helpful for group discussion and for a bit more in depth look at the book of Acts.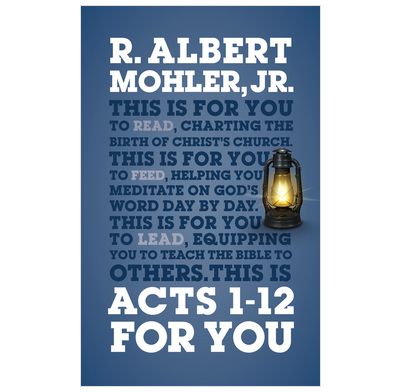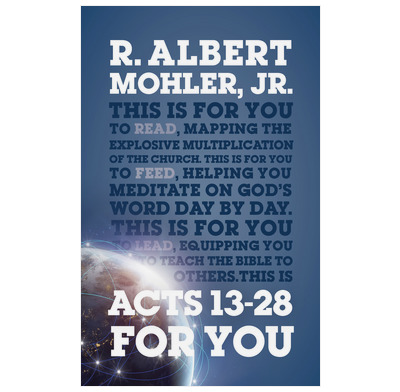 The 'Acts For You' is a really helpful series that balances the context, details of the passage, interesting points to raise in discussion and also the application of any given passage. Acts is a wonderful book which describes the beginning of the church, the spread of the gospel and many different stories of how God worked in people's lives and in the church. These books will help you write Bible studies, contribute to or lead a small group that is studying the book of Acts. The chapters are not long and they could easily be allocated as reading to help a group dive into Acts more.
Mohler brings his years of experience as an academic and a preachers into these books that are designed to help you walk through the book of Acts in an accessible and applicable way. It is an expository guide but it can be used in many different ways. I would recommend you give it a try and see how a small group of Christians could work through it together. You can buy volume one here and volume two here.
Rating 4/5
Sermon Preparation
Last, but certainly not least,are two commentaries by the Proclamation Trust. They are written with the Bible teacher and Bible student in mind. Both of these books can be used by pastors and teachers, but also for every Christian who wants to wrestle more with a book of the Bible. Why not take one of these books, or one from the series, and make it your Bible book for the year? That way you'll really get to know one book and then you can move on to the next. Is there a better way to spend your time than diving into and understanding God's Word so that you can take it to the world?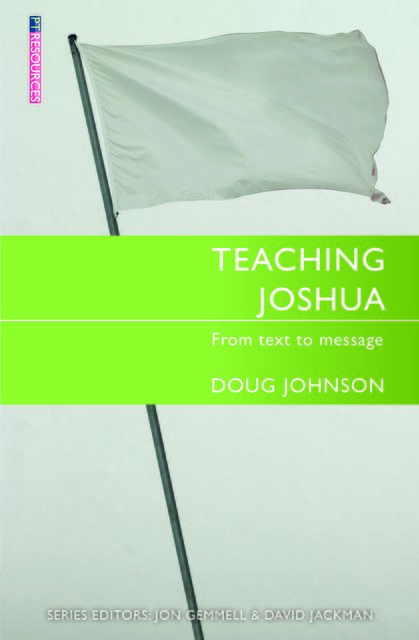 Teaching Joshua by Doug Johnson
Joshua is probably one of those books in the Bible that many little boys love. It is full of battles, adventures and trickery. But it is far more than that, Joshua is an important book that covers the events at a critical point in the history of the nation of Israel. One of the big things that jumps out of the book of Joshua is the fact that God is faithful and in control, He will be faithful to His covenant promises to His people.
But how do we apply this book today? How do we understand the significance of historical narrative for the church in the 21st century? This book will help you figure that out!
Like the whole 'From text to message' series, this book starts with important information about the book, tools for how to understand the big picture of the book and ideas of how to go about preaching Joshua. The book then goes on to dive into the text itself and throughout you'll find helpful insights, key applications and questions to help you wrestle with the text. This book will not only teach you about Joshua, but it will point you to see the wonderful God that we love and serve!
Rating 4/5

Teaching 2 Kings by Bob Fyall
2 Kings is a book that I have never preached, it's part of that big chunk of Scripture that is largely narrative that many people get bogged down by. But I love it!
I love reading the Old Testament and diving into what some see as the more obscure passages in the Bible. This book is a huge help to anyone who wants to understand or preach from the book of 2 Kings. The first part of the book gives you a ton of really helpful information about the book as a whole; how to divide it, its place in the history of Israel, its significance for the people of Israel, the structure of the book and ideas of how to split the book for a sermon series.
The second and third parts of the book walk you through the narrative. Throughout the chapters you'll find helpful insights, sermon outline ideas and ideas for study questions and key applications for the book. I thoroughly enjoy Bob's books and have read a number of them. If you are thinking of diving into 2 Kings this book will be a huge help!
Rating 4/5