I love preaching! I enjoy having the privilege to be paid full-time to study and expound God's Word in many different settings; from the pulpit, in the coffee shop and in evangelism. Preaching is an absolute joy, but it is also difficult. When you preach you need to think about your listeners, the sermon series, the context of your passage, faithful exposition and application and, above all, you must glorify God!
I've been preaching now for about 6 years and I've poured over many books on the subject, both big and small. But here is a short series, of short books to help preachers to think about what preaching is, the message they preach and to think about services as a whole. Puritan William Perkins said…
"The preparation of sermon is an everyday task in the church, but it is still a tremendous responsibility and by no means easy. In fact it is doubtful if there is a more difficult challenge in the theological disciplines than that of homiletics"
This 'Get Preaching' series will help…

Why Expository Preaching? by David Jackman
Expository preaching is the type of preaching where you let the text do the talking. The Bible isn't used as a starting point or a trampoline to jump into whichever topic you have decided you want to speak on, but the Bible sets the curriculum as you work through books of the Bible. Here's how Jackman defines expository preaching…
"I would define expository preaching as preaching which takes the Bible seriously; so seriously that the Biblical text totally governs and directs the contents of the talk or sermon"
Why is this so important? Because God rules His church and He has given us His word, the self-revelation of God Himself, to equip us for everything we need to know to become His children and to serve Him. Without sound Biblical teaching, that both comforts and convicts and finds its roots in God's Word, people will be left starved spiritually!
This short book stresses the importance of teaching God's Word, it points out the dangers of neglecting this vital task and it give practical advice from a man with many years of preaching experience behind him. If you're new to preaching or if you want to get 'refresher' this book is a great place to go!

Preaching the Cross by Nigel Styles
Do we really need this book? Yes!
Isn't this an obvious point? You'd think so, right?
"Christians must preach the cross… preaching the cross is central for our mission to the world"
But if you think that this book is written solely for preachers, you've got another thing coming. This book stresses the importance for every single Christian to preach and speak about the cross in sphere of life. The first three chapter Styles looks at some of the issues behind the topic of this book.
Chapter 1 – Preaching does not mean simply giving sermons and every Christian should be proclaiming the cross to the world.
Chapter 2 – The gospel is so much more than we usually talk about, it is no less than the death, resurrection, ascension and return of Christ, but it is far more than that.
Chapter 3 – The importance of the spoken gospel, it must be put into words!
I won't go into the rest of the content of the book, but this is a very important topic to consider. Jesus can't just be tacked onto the end of a sermon and we think that we've preached the gospel. We can't expect gospel proclamation to only come from behind a pulpit, but every Christian has the responsibility to proclaim the gospel to the world!
This book is full of great truths that show how the gospel should change every area of our lives and make us want to go out into the world and tell people. It is full of practical advice and wonderful truths that will challenge your thinking and your speaking.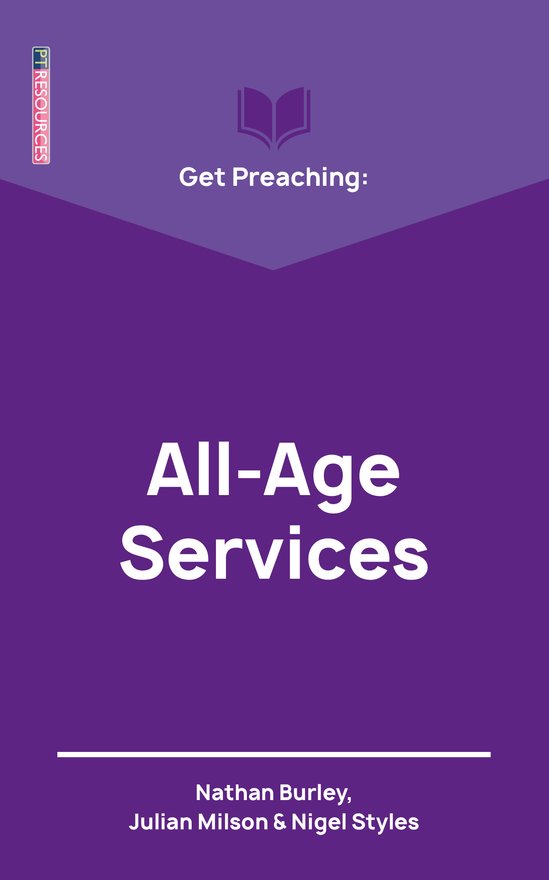 All-Age Service by Nathan Burley, Julian Milson & Nigel Styles
This book is about a topic that many families and pastors don't necessarily like… family services. Those wonderful times when the whole body of the local church is gathered together to have a service; to sing, to pray, to read from God's Word and to hear a sermon.
Pastors often struggle with these services because you're preaching to a huge age range and each person has a different level of understanding. Families often struggle with these services because they feel that they can't listen and learn with the potential threat of a screaming toddler. But these services are a wonderful opportunity for the whole church family to grow and learn together as one unit.
In just four short chapters the authors cover a lot of ground; why bother with all-age services, taking the bible seriously, organising an all-age service and working examples. If you're new to ministry or you're wanting to introduce family service into your church this book is a great place to start and help you think through the sermon, the length and all of the other important elements involved.
Why not pick it up and try it out? All-age services are wonderful moments where the whole body praises God together with one voice, learns together under one teaching and leaves with one message and goal; the gospel of Jesus Christ.
Rating 5/5
Instead of rating each individual book, this rating is for the whole series. I haven't quite seen a series like this that is so practical and to the point for preachers, pastors and church leaders. I highly recommend that you buy it here from Christian Focus.