Children's Christmas books are important, they must be pleasing to the eyes, exciting for the children and faithful to Scripture. We wouldn't settle for anything less when it comes to a book for adults, so why should we settle for less with children's books?
Here are three children's books that I hope you'll find helpful and can use with your wee ones this year. There is one for the whole family, and two for smaller children. If you're looking for some more, here you can find three of my recommendations from 2018.

The History of Christmas by Heather LeFebvre 
Christmas is such a wonderful celebration, but it is also very different depending on where you go. I've spent Christmas in a few different countries and spoken with many people about their different traditions. I always love hearing about how other people do things differently. That's probably why I think that this is a great book!
In this book you will find the history of Christmas which stretches all the way back to the birth of Jesus. In each chapter you'll be introduced to a new person, or a new time in history and the particular traditions that come from that. At the end of each chapter you'll find suggested readings from Scripture, discussion questions to keep learning as a whole family and a recipe that you can cook together.
This book is so interactive and exciting, and who doesn't love a book that gives you recipes of Christmas treats?!? Laura Winslow has done a wonderful job of illustrating this book and making it so catching too! If you read this as a family you'll learn more about Christmas, but you'll also be pointed to Jesus; the reason for the season. Buy a copy here and get learning and cooking as you anticipate Christmas morning.
Rating 5/5
Heather LeFebvre teaches art, literature, and history through various workshops and school settings. She also enjoys reading good books, creating art, and making holidays special. She lives on the outskirts of Indianapolis with her husband, who is a Presbyterian minister, and their five children.

The Longest Wait by Alison Brewis
For many children Christmas is a waiting game, for weeks the air is filled with excitement as the decorations go up and as snow falls on the ground. The excited waiting often revolves around the gifts under the tree.
This wee booklet is a helpful story for small children that explains the waiting game. But it doesn't stop with them and their anticipation of gifts.
This book transports children back in time to that first Christmas as Mary and Joseph are traveling and awaiting the arrival of the precious baby. But it also tells the story of how Simeon and Anna who were both waiting on the promise child who would be king. Not only that but the whole of creation had been waiting for that day! But all the waiting is over as on Christmas morning Jesus is born. All that God had promised is coming true, Jesus is born, the king has come!
This little booklet will help you speak about Christmas in a fun way that highlights the importance of the birth of Jesus. Buy a copy here and read it with your wee ones, why not buy a few and give them as gifts to children at church and family friends. This is a story that everyone needs to hear; that Jesus, the one who will take away the sins of his people and the king sent by God, has come!
Rating 5/5
Alison Brewis is currently a stay at home mum to her 3 children, and wife to Church of England Minister, Rob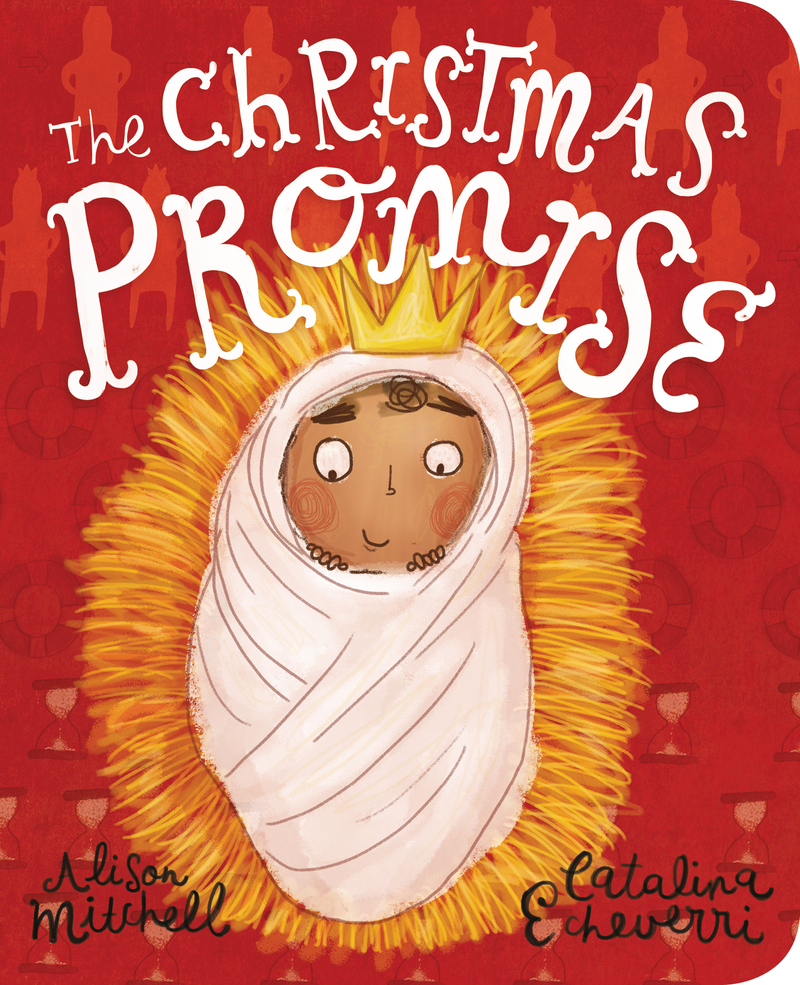 The Christmas Promise by Alison Mitchell
Children's books are a wonderful tool to teach children real and robust truths in a bitesize and fun way. This book does just that!
Alison Mitchell has written the Christmas story in the form of a board book for young children (ages 2-3). This story focuses on the birth of Christ, but it begins with God's promise, from long ago, to send a special new King.
Catalina Echeverri has illustrated this book so well; it is colourful and exciting, combining that with Alison Mitchell's faithful and fun retelling of the Christmas story makes this a great book for small children. You can buy a copy here and help children see that Jesus is the promised King sent by God.
Rating 3/5
Alison Mitchell is a Senior Editor at The Good Book Company, where she has written a range of Bible-reading notes for children and families, and is editor for the Christianity Explored range of resources. Alison is also involved with youth training events around the UK, including the Growing Young Disciples training days and Bible-Centred Youthwork Conference