Christmas is the perfect time to give someone a little gift. What better gift to pass to someone than a small booklet that will tell them about Jesus?
Here are three small, very short, resources that you can give away. You can use these as an individual, as a church or as a family to point others to Jesus this Christmas.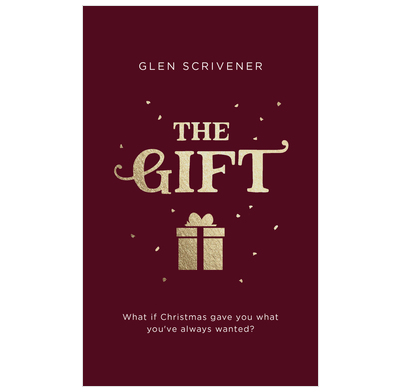 The Gift by Glen Scrivener
Christmas is a time when people give and receive gifts, right? We love the idea of giving and receiving the perfect gift; the one that the person has been waiting for and is really pleased to receive.
In this short evangelistic book, Glen Scrivener writes about how our culture of giving gifts gives us an insight into God. God has given the world the best gifts ever! we have life, we have a beautiful world and most importantly God gave His son Jesus Christ. This little booklet will take the reader to the mind-blowing verse of John 3:16 and it shows you how Jesus is the gift that we have all been waiting for. The Gift challenges the reader to acknowledge God as the ultimate giver of good gifts, to recognise Him and thank Him. There is also a short video given at the back to help the person explore this more.
This is a great little booklet to give out to people as you do carol singing, visit friends houses, or as a church giveaway for the carol service. Buy a copy here and give someone the gift that everyone needs to hear about this year, the gift of Jesus Christ.
Rating 5/5
Glen Scrivener directs the evangelistic charity Speak Life. He is an ordained Anglican who writes, speaks, and makes media to equip the church and reach beyond it. He is married to Emma and is the author of 7 books, including 321, Long Story Short and The Gift.

Murder on Christmas Eve by Maureen Greaves & Roger Carswell
Christmas is not an easy time for everyone. Sure, many people are excited and happy over the Christmas period. But there are others who really struggle.
In this little booklet Maureen tells the story of how on Christmas Eve in 2012 her husband was murdered. Maybe you're thinking 'why on earth is that a helpful story to hear at Christmas?' This booklet is important because in it Maureen points the reader beyond the flashy lights and gifts under the tree to the truth of Christmas that will carry you through the darkest of nights! Maureen tells her story but at the same time she tells God's story, she points the reader to the gospel and the significance of Jesus. She speaks about forgiveness, grace, comfort and pain.
I think that this booklet is a great giveaway because it is real. It is a real life story of someone who has suffered terrible loss, but who is rooted firmly in the hope that Christmas brings; the gospel. Buy a copy here and share the hope of Jesus as he is light in this dark world.
Rating 5/5
The Christmas Gospel
God's Word has the power to change people's lives. That's why giving someone a Bible or a copy of one of the gospels is a great gift! The Christmas Gift is a wonderful resource to give away! It is Luke's gospel, without the chapter and verse heading so that it reads more like the story that it is. It is also has great little illustrations in it to bring the story to life for the smaller readers. This is a great resource that you can use as a church wide giveaway. If you go on their website here, you can order copies but you will also find ideas of how you could distribute this little booklet to your neighbourhood, or church community.
Rating 5/5