There are a plethora of Christian books out there, some good and some bad, some technical and some practical. Often it's hard to know where to start. Here are four very good and practical books that I've read recently, each of them is designed to help you put your faith into action. Each book is built on the foundation of Biblical wisdom and helps Christians think through some tricky stuff and live out a God-glorifying life. I hope you enjoy them…

Talking Points: Abortion by Dr Lizzie Ling and Vaughan Roberts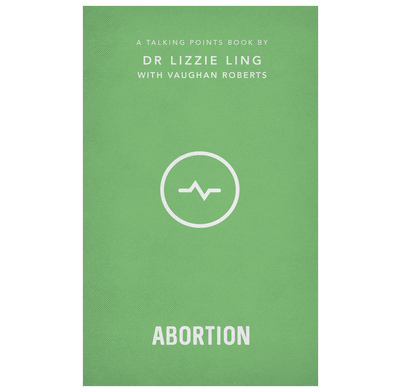 Abortion is a topic of extremes; you either never hear about it or you hear about it all the time. I think that this is a much more divisive and political topic in the US, however, it is sadly a very relevant topic in the UK too. Why is this an important book to read for Christians? Because of the following…
"Worldwide, it is estimated that there are some 40 million induced abortions every year"
That statistic shocked me. This little book opened my eyes to the topic of abortion in such a helpful way that is very rarely seen. Most of the time I've seen this topic discussed people have been angry, agitated and almost full of hatred for those who oppose their own view on abortion. But this book is not like that. In this book you'll find an honest and direct critique of the abortion culture in our world, the language that is used and the philosophy / worldview behind abortions. However, it's not written with a 'holier-than-thou' attitude, it's written with care, gentleness and understanding. In this book you will find practical things that you can do as a Christian and as a church to help those who are considering or have had an abortion. I recommend you buy this book and use this short introduction to a very difficult topic to start you on the way of learning more how to think biblically, speak wisely and act compassionately regarding abortion.
---
Relationships – How do I make things right? By Sharon Dickens
Relationships in a fallen world, with fallen people, as we ourselves are fallen are not always easy. We will fight, we will argue, we will hurt our loved ones and struggle to like them at times. So, how does the Christian deal with relationships in light of the gospel?
This book, in fact this whole series, is so helpful! This book specifically deals with so many situations that you have probably already been through, Sharon points you to the Bible, she helps you see how the gospel transforms relationships and she is honest. Too many books pretend that just because we're Christians we should have it all together, that just isn't true. This book goes into what to do when it all goes downhill and we mess up, it deals with the difficulties of family life and it gives you Biblical insights into how to glorify God in your relationships. This book is part of a great wee series and I would recommend that you go and buy the lot!
---
Service – How do I give back? by Mez McConnell
One of the sad things to see in a church and in the heart of a Christian is a consumer mentality. We have not been given new life in Jesus to then sit in a chair on a Sunday morning, to receive, receive and receive but not to give anything in return. Yet how often do Christian live this way?
Maybe it's because you feel inadequate, maybe you think you're not gifted, or not needed, or maybe you've just never considered that you are an integral part of the body of Christ. Well, Christian, you are so get serving.
This book is full of practical tips on how you can serve, full of Biblical truth about who you are and why serving is a joy and not a task and it is saturated with the wonderful call to be a disciples-making-disciple. Our motivation for service must be to see the name of Jesus glorified, our desire should be to serve God and our brothers and sister in Christ and each of us is equipped and enabled in our service by the Holy Spirit. Thank the Lord for that! Pastor, get this book and take a group from your church through it, use it in 1-1s and help people see the joy of serving God. Christian, read this book and put your hand to the plough, roll your sleeves up and serve the Lord.
---
5 Things to Pray in a Global Crisis by Rachel Jones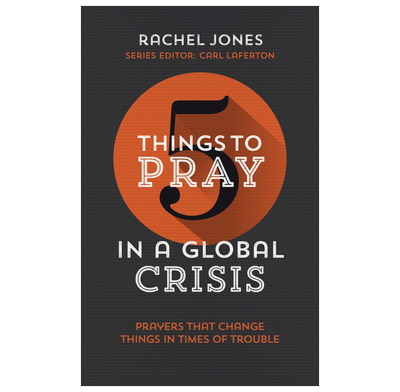 Many people are anxious during this time of lockdown due to COVID19, there is so much information out there and it can sometimes be contradictory and confusing. So, how do you pray during this time? How do you pray when your mind is spinning at a hundred mile per hour? Rachel Jones has written this short and helpful book which gives you pointers on how to pray during a global crisis. It helps you consider how to pray for your own heart during these times, how to pray for your family, for the response to the crises, for your church and for kingdom growth. This would be a good wee tool to keep next to your Bible during this time.