Christmas, a time of joy for many but also a time of pain for many. Christmas, at its core, is a time to celebrate the birth of Jesus Christ. It is a time to celebrate who Jesus is and why Jesus became flesh and dwelt among us. I'd like to highlight a few books that will be a source of encouragement, that will give you time to reflect on Jesus and that will help you discover and tell people the true meaning of Christmas. These can be gifts to others or yourself, but they will point you to the greatest gift that can ever be given, everlasting life through Jesus Christ.
Too often people think of Jesus as nothing more than a wee crying baby in a manger. The reality that we see in Scripture is that Jesus is far more glorious. In this book of advent meditations, Tim Chester walks through the book of Hebrews and helping us grasp a greater picture of who Jesus really is. This is a really good book and each devotional is only 3 pages or less with a thought provoking reflection section at the end.
Christmas is a time to celebrate Jesus, but so often our time is taken up with family meals, presents and we end up almost forgetting about Jesus. This book will help you be fixated on Jesus. It will help you be in awe of his majesty and it will help you see the wonderful event that the first Christmas was. Don't sideline Jesus this year, why not buy a copy of this book instead and together with family and friends fix your eyes on Jesus? I highly recommend this book as your companion throughout advent this year.
---
The Christmas We Didn't Expect by David Mathis
The Christmas story is a familiar one to many people in the world today, or so they think. People will be able to talk about a donkey and a journey, a manger and some shepherds. But is that really all Christmas is about?
David Mathis has written this set of daily devotionals for advent that help us see how unexpected the birth and person of Jesus are. The thing I really like about this book is that it goes beyond what we'd expect, Mathis helps you think about the importance of Jesus being both fully God and fully man and more. This short devotional book is jammed with rich theology and Bible verses that point to the significance of the Christmas we didn't expect. Mathis speaks about an unexpected birth, the unexpected child, unexpected news, unexpected guests, and unexpected town, unexpected joy, our unexpected part and that unexpected day.
---
Marry Christmas and a Happy New Year by Timothy Cross
In this book Timothy Cross draws out the implications of the Christmas story and gives us some encouragement for the new year. To say that 2020 has been a strange and difficult year would be an understatement. This Christmas is probably going to be very different from other years as well, so we need to be reminded of the Christmas story and be encouraged at the opportunity a new calendar years brings. Timothy Cross has written this book to be that source of encouragement and to bring joy in times of uncertainty.
---
Christmas Giveaways
Searching for Christmas by J.D. Greear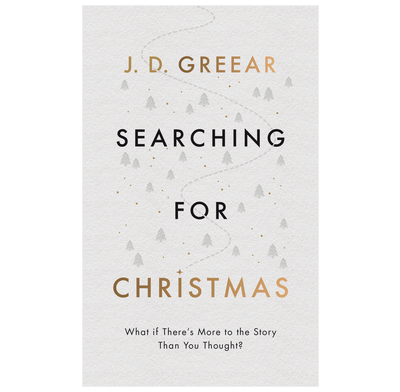 This short book (61 pages) is designed as a Christmas giveaway that will help people consider who Jesus is. Greear takes the verse Isaiah 9:6 and unpacks the four names and descriptions of Jesus there. The book ends with the chapter 'What Do You Call God?'. This is a simple, short read that will peak the interest of those who read it to consider who Jesus really is. Designed to be a giveaway it isn't long, or massively in-depth but an engaging read that points to Jesus.
---
The Best Christmas Ever! by William Taylor
This is a great wee booklet that explains the importance of the life of Jesus from John 1:1-12. William Taylor simply opens up those verses in a simple and helpful way to help the reader see how Christmas continues to change people's lives today. If you're looking for a little booklet to put through people's doors this year, I highly recommend this one. A single copy is £0.99, but buy a bulk of 50 and they're only £0.39. Don't miss out on a gospel opportunity this Christmas.
---
Who Stole Christmas? by Phil Heaps
In this short book Phil Heaps talks about the reality that Christmas has been stolen, not that it's gone but that the true meaning of Christmas is missing under a pile of stuff. Heaps then goes on to explain the 'who' and the 'why' of Christmas. This would be a good conversation starter with friends and family members that could easily fit in a wee stocking.
---
This is a great way for people and churches to share their faith with their neighbours and communities. This evangelistic magazine has lockdown tips, recipes, a quiz, puzzles, children's craft and and a testimony. There's also an article in it by Roger Carswell on Hope Beyond Coronavirus. This little magazine would be a great way to start a conversation, to get people to hear about Jesus and who doesn't love some homemade recipes!?!?
---
The Christmas Census by Roger Carswell
Roger Carswell has written this Christmas evangelistic tract that focuses on the census in Luke's Gospel. Carswell cleverly links this in with the UK census being taken next year. This little tract helps people see that the New Testament begins with a census that people were obliged to enter, but how the Bible ends with an invitation for all to register to enter into God's Kingdom. This could be a little giveaway that you put through letter boxes, or put on literature tables at events, or outside church buildings to point people to Jesus.