There are so many books out there on the topic of marriage. Some books are written about how to prepare for marriage and some about Scriptures teaching on marriage. But many books on marriage seem to give the idea that marriage is always perfect and happy. Here are two books on some of the difficulties of marriage. These books are very different; one is for couples to help them walk through the storms of life together, and the other is for pastors and church leaders to think about how to understand and deal with domestic abuse. Whilst these books are very different, I've put them in the one post because they are both about marriage and they both highlight the importance of having a marriage relationship that is rooted in Scripture.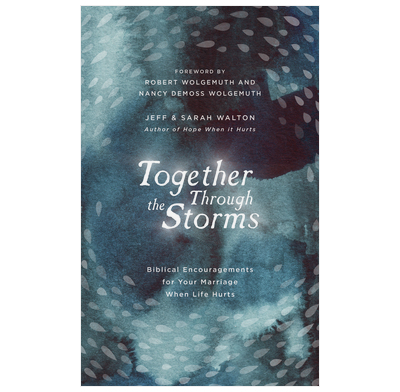 The storms of life are no stranger to a married couple. Life probably hasn't turned out as you thought it might as you stood at the end of the aisle and said "I do". Married couples go through the storms of life, yes there are times of calm waters and sunshine, but there are also times when you feel that you're fighting through a tempest that won't give up.
Together Through the Storms is a wonderful book that is written by a real couple, for real couples. The Waltons are refreshingly honest and open about their lives and their struggles, they are relatable, but most importantly they take you to the Word of God for encouragement to ride out the storms of life as a married couple. The book keeps coming back to the book of Job and offers practical and biblical wisdom about how to deal with the storms of life. Those storms will look different for different people, but the reality is that trials and suffering will come our way. The way we respond to that suffering matters, the way we respond to that suffering as married couples matters!
Together Through the Storms is full of great teaching, but it isn't 'teachy' (if that makes sense). It's as if you're sitting at the dinner table enjoying a coffee with Jeff and Sarah and they are just honest about the ups and downs of married life. The book touches on topics like; children, chronic illness, stress, work-life balance, sex life, humility, submission and forgiveness. I would recommend this book to every couple! Even if you're just married and no storms have come your way, one day they will and it is best to be prepared before they do. I highly recommend that you buy this book and a few giveaway copies too.
---
There are some books that I really do wish would never have to be written, this is one of them. No spouse, or family, should have to go through the trauma of domestic abuse. However, the statistics show that domestic abuse is 'normal life' for so many people. Domestic abuse is a serious problem…
"On average, two women per week in the United Kingdom die as a result of domestic violence by an intimate partner and annually about one quarter of a million women live in fear of domestic violence. Domestic abuse, therefore, is not something to laugh or joke about." 
"One in six men experience domestic abuse"
"It is estimated that over 40,000 older people in Wales are being abused in their own homes every year regardless of their gender, ethnic background, sexual orientation or gender identity."
In this book you'll read horrific stories about how people (both men and women) have suffered abuse from their spouse. I'll confess that there were parts of this book that made my blood boil as I read stories of people taking Scripture out of context and twisting it to afflict others.
The book is split into three parts. The first part, the introduction, explains the global extent of the domestic abuse problem. The second part is a heart wrenching few chapter with the reality of domestic abuse in Christian homes mixed in with testimonies of survivors. The third part is written with pastors, elders, church workers in mind and deals with how we should respond to domestic abuse. Davies offers helpful pastoral insight, practical help, he engages with many Bible passages that can often be misconstrued and he tackles the (very controversial) topic of divorce.
I would highly recommend every pastor, elder and church worker read this book because the reality is that in our congregation there will be those who are suffering abuse. We need to know how to protect, care for and aid people in those situations. For some people this book will open your eyes to the problem of domestic abuse, for some it will be a wake-up call but it will be hugely beneficial for everyone because it highlights how widespread abuse is.
Please buy a copy here and wrestle with this really difficult topic.
Eryl Davies is an elder at Heath Evangelical church, Cardiff and a member of the Management Board of the Evangelical Movement of Wales . He pastored churches in South and North Wales before becoming the first principal of what is now Union School of Theology. He continues to serve churches and conferences and to write.